so we made it – yet I'm still a bit behind so here's Saturday's clouds! enjoy.
//5:31p+01Nov20 = sunday eve… || the power of moving pictures, not too long, filled with info-tainment!!//
+++ +++ +++
and so friday. the friday before the tuesday of our future – feeling calm, settled? um – nope. It's like it's a 'Dead Man's Party' or some such – kinda scary, spooky! (ah good ship keXp – Halloween Theme Friday rocks!)
so – would it be true that we – the majority – who believe in science, don't fear others, want this to be good for all – we need to speak up, to shout down the incredible minority who are truly horrible; as noted 'the truck nutz of presidents' – I mean truck nutz have their fans, and a place, but it's not to be an identifying badge of awesome, right?
we took the college grad as a badge of getting there – and that was fucked up.
we took … ??? voting? I don't know – but I do know that the few are annoying as hell. how to ignore them when they impact my world/my life? how to take a righteous stand over the foolish idiots in such a way as to not be 'elitist' – can it be done?
//2:25p – "Karen O & Willie Nelson cover 'Under Pressure' – from good soul John's Oct 29th morning show opener – the beauty, the love – music matters. music heals. music is my community.//
ordered stuff for me via amazon – that's the 2020 theme isn't it? – oh, followed Under Pressure with Mad World covered by Brandi Carlile – nice John, nice…
//4:03p – listening to John's show yesterday, noticed that a decade ago a road trip to DC took place with Blood and Boo and Morgan and we ended up chilling with Karl and Holly – a run to support sanity. what a decade, eh?//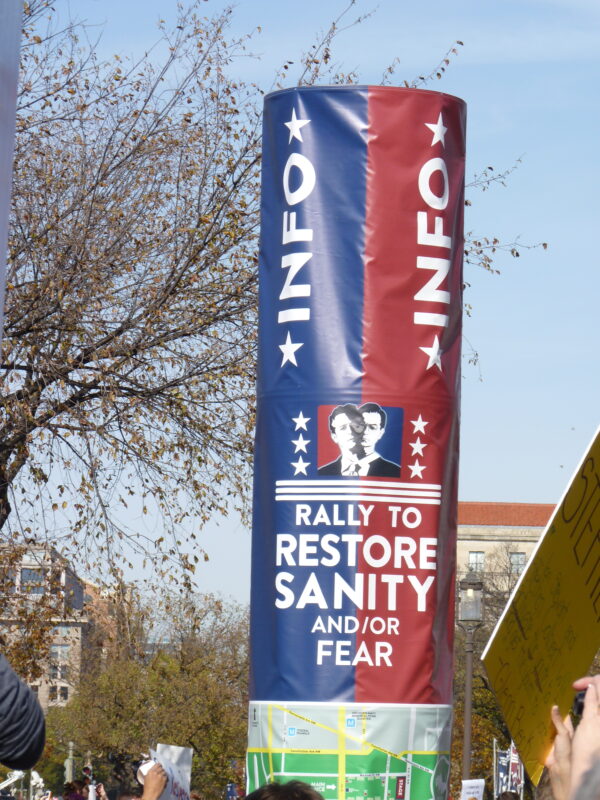 We've had a decade, we've had a hell of a decade. Where do we go now?
Ciao,
:: s ::
Respice ad diem hanc | "Don't Forget to Be Awesome"
//12:26p+30Oct20 = Friday afternoon || "Satan Said Dance" by Clap Your Hands Say Yeah from keXp's The Morning Show guided ghoulishly by good soul John//